Precision Grinding and Polishing
Comparison of Grinding Methods
Grinding Method
Through Feed Grinding
Infeed Grinding
Cutting Direction
Parallel to workpiece
Vertical to workpiece
Crack Formation
Parallel to workpiece (shallow)
Vertical to workpiece (deep)
Surface Quality
Small deformation
Large deformation
Material Service Quality
Good
Depends on cutting speed
Cut Speed
0.1μm~10μm/min
600μm/min
Cut Method
Place Z-axis on wafer side
Spindle moves vertically
Removal Rate mm3/s
Low
High
Feed Method
LM guide (air slider)
Constant pressure feeding mechanism
Ball screw feed mechanism
Process Accuracy
Less than 1μm/φ100mm
Less than 2μm/φ100mm
Chuck Type
Porous ceramic vacuum chuck
Porous ceramic vacuum chuck
Optimal Grinding Mechanism According to Material
To maintain dimensional accuracy
→ constant size mechanism
For better surface finish
→ constant pressure mechanism
To find optimal processing condition
→ constant pressure mechanism
For knowing when to dress
→ constant pressure mechanism
To achieve maximum grinding performance
→ constant pressure mechanism
Constant Torque Infeed Grinder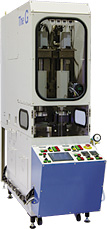 Constant torque infeed grinder is a multi-purpose machine that grinds, laps and polishes, using NanoTEM's unique diamond grinding wheel. It requires minimum installation space and improves work efficiency, leading to high manufacturing performance.
Through Feed Surface Grinder with Constant Pressure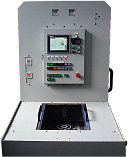 Suitable for cutting sapphire, ALTIC, alumina substrates. The newly developed constant pressure feed mechanism feeds the wheel with constant pressure deriving 100% of the grinding ability.
Product Information
The Grinder
Development of Innovative Technology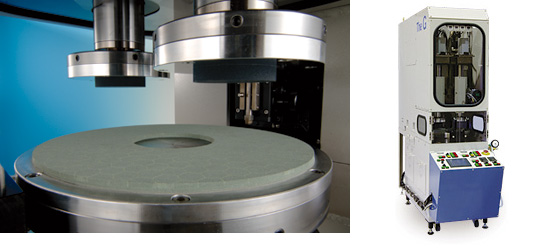 Multi-purpose machine that grinds, laps and polishes
Requires minimum installation space, improves work efficiency
Water and air passing through the wheel controls the surface morphology of the workpiece.
The Grinder performs various processing which conventional equipment could not.
This improves the work efficiency of the next step, and leads to the precision of the product. It is especially suitable for grinding and polishing, hard and brittle materials such as sapphire, quartz glass and silicon.
"The Grinder" along with special diamond grinding wheel is the achievement of NanoTEM's next generation grinding technology, and will continue developing ideal manufacturing solutions for electronic component industries that keep growing and expanding.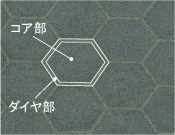 Image of water and air passing through precision diamond grinding wheel.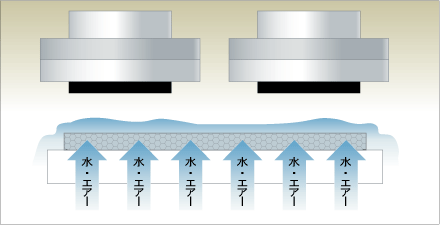 Specifications [The Grinder]
Grinding Wheel Spindle
Rotation Speed
5~1500min-1
Bearing
Ball Bearing
Motor
Belt Drive 3.7kW
Diameter
φ350mm (maximum)
Work axis
Effective Stroke
(constant size/constant pressure feed type)
80mm
Resolution (constant size)
0.1μm
Drive Type
Constant Size Type
Ball Screw Feed Mechanism 1μm/s
Constant Torque Type
Air cylinder (push up)
Chuck
Vacuum Type
Maximum Work Diameter
φ125mm(5")
Rotation Speed
5~200min-1
Vacuum System
Water Seal Vacuum Pump
Vacuum Ejector
X-axis
Effective Stroke
30mm
Drive Type
Ball Screw Feed Mechanism
Feed Speed
30reciproocation/min.
Facing Function
Effective Stroke
150mm
Drive Type
Ball Screw Feed Mechanism
Feed Speed
3m/min. (maximum)
Machine Weight
800kg
Clean Room
Classification
Class 10000
Applications
●Blue light emitting diode ●Sapphire substrate ●Gallium arsenide ●Thin-film diamond